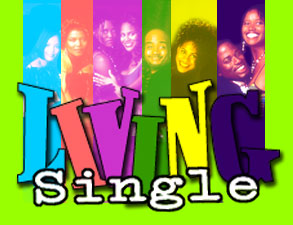 Welcome to the Wiki
Edit
Welcome to the Living Single Wiki.
Khadijah James (Queen Latifah) was the editor of Flavor, a magazine targeted to the black community. She lived in an apartment in a brownstone in Brooklyn with her cousin, Synclaire James (Kim Coles), a perpetually perky but not to bright woman who was her secretary at Flavor, and gold-digging sexpot Régine Hunter (Kim Fields), a childhood friend who worked at a fancy women's clothing boutique. Maxine Shaw (Erika Alexander), Khadijah's college roommate, a man-eating divorce attorney with an acid tongue, seemed to spend almost all her free time at their apartment. Living in the apartment upstairs were Synclaire's boyfriend, Overton Jones (John Henton), the building's simple, happy handyman, and Kyle Barker (T.C. Carson), a conceited financial planner who dished it out pretty well in his ongoing verbal exchange with Max.
Khadijah's old boyfriend Scooter (Cress Williams) surfaced in the spring of 1994 and they started dating again. He got a job in the fall in public relations for a record company, and at Thanksgiving left to go on a six-month-long world tour managing a rock group. In the last original episode of the 1993-1994 season Max lost her job at the law firm, got drunk, and ended up spending the night in bed with Kyle. Despite their hostility they discovered they liked each other, which affected their relationship until they reverted to form. A month after the firing Max got her job back but, because her bosses effectively demoted her, she quit. After several months sponging off Khadijah and her roommates, she got a job with the Public Defender's office.
In the fall of 1995 Kyle and Max were secretely dating, but their mutual belittling of each other caused them to break up. Regine had a new job working behind the scenes on a soap opera, and Ivan (Bumper Robinson), a sophomore at NYU, was working as a gofer at Flavor. Also on the Flavor staff was Russell Montego (Shaun Baker), a Jamaican with the hots for a disinterested Regine. In 1996, a busy year, Maxine ran for alderman and, despite having her entire racy past exposed on local tv news, she won the election. She and Kyle resumed their clandestine affair. Overton and Synclaire got engaged. In November, Regine's soap opera, Palo Alto, was canceled, leaving her without a job, so she started organiizing parties. At the end of the 1996-1997 season Overton and Synclaire got married and Kyle's brokerage firm offered him a chance to run it's London office. He and Max broke up-but at the wedding Max told Kyle she loved him.
In the fall of 1997, Tripp Williams (Mel Jackson), who wrote commercial jingles, moved into Synclaire's room. Max and Kyle fought over whether he was staying or she was moving to London with him ( he left at the end of the season's second episode), and Synclaire and Overton were stranded on a deserted island when they missed getting back on their honeymoon cruise ship after a luau. In December Regine found her millionaire, Dexter Knight ( Don Franklin)and Khadijah reunited with Scooter. Although Kim Fields-Freeman was still in the opening credits, she did not appear in any of the last episodes. When the series aired it's last 2 episodes on New Years night 1998, Max was artificially inseminated and became pregnant-with Kyle's sperm. She and Kyle got back together, and Synclaire, whose acting ambitions and work had landed her a role in a sitcom, moved to Hollywood with Overton.
Latest activity
Edit